First applications of a new three-parameter distribution for non-negative variables
Free
digital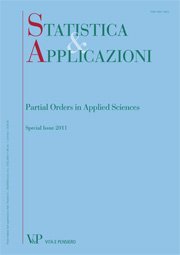 Offer valid until 02/12/2023
Ebook format Pdf readable on these devices:
SUMMARY
Zenga (2010a) recently proposed a new three-parameter family of density functions for non-negative variables. Its properties resemble those of economic size distributions: it has positive asymmetry, Paretian right tail and it may be zeromodal, unimodal or even bimodal. In this paper we explore some methods for fitting the new density to empirical income distributions. We will see that D'Addario's invariants method clearly outperforms Pearson's moments method, which does not seem to work well with heavy tailed distributions. Further, we propose some new methods based on the minimization of a measure for the goodness of fit, imposing restrictions on the parameter space to preserve some features of the empirical distribution in the fitted model. We will see that these methods provide very satisfactory results with income distributions from Italy, Swiss, US and UK.

Keywords: Income Distribution, Zenga's Distribution, Goodness of Fit, Moments Method, Invariants Method.
Browse the archive
Recent issues
Available online
2012

issues