Metodi per la costruzione di indicatori della qualità del lavoro: un'applicazione al settore dei servizi sociali
digital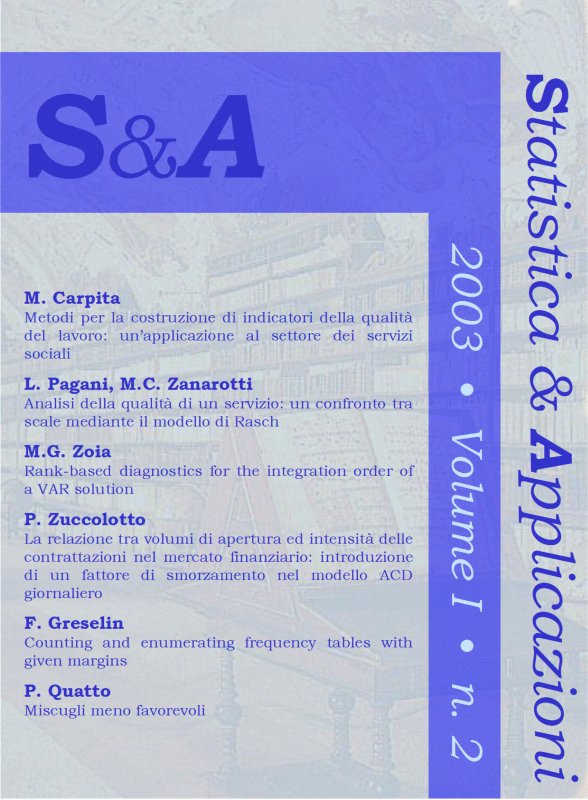 Ebook format Pdf readable on these devices:
In social and economics research it is common practice to provide an index to evaluate a particular aspect summarizing answers to a group of interview items measured on an ordinal scale. This paper takes into account the possibilities of the optimal scaling algorithm Princals ( principal component analysis by means of alternating least squares). This algorithm simultaneously gives both a measure of ordered answer categories and a weight referring to the importance to be attributed to each item. Princals is tested on a data set collected through a survey concerning the job quality of 2000 remunerated employees in the italian social services sector. The obtained results are compared to the results of the usual techniques of scaling.


Keywords: Optimal scaling, Non linear PCA, job satisfaction, Social services sector.
Author biography
Maurizio Carpita, Dipartimento Metodi Quantitativi – Università degli Studi di Brescia – Contrada S. Chiara, 50, 25122 Brescia (e-mail: carpita@eco.unibs.it).
Browse the archive
Recent issues
Available online
2003

issues