Regression model for proportions with probability masses at zero and one
Free
digital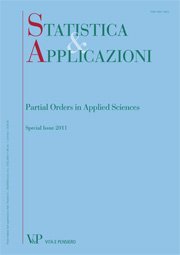 Offer valid until 02/12/2023
Ebook format Pdf readable on these devices:
SUMMARY
In many settings, the variable of interest is a proportion with high concentration of data at the boundaries. This paper proposes a regression model for a fractional variable with nontrivial probability masses at the extremes. In particular, the dependent variable is assumed to be a mixed random variable, obtained as the mixture of a Bernoulli and a beta random variables. The endpoints of zero and one are modelled by a logistic regression model. The values belonging to the interval (0,1) are assumed to be beta distributed and their mean and dispersion are jointly modelled by using two link functions. The regression model proposed here accommodates skewness and heteroscedastic errors. Finally, an application to loan recovery process of Italian banks is also provided.

Keywords: Proportions, Mixed Random Variable, Beta Regression, Skewness, Heteroscedasticity.